Nurses Cite Gender Bias in Senate Rejection of Bill To Ensure Workers Compensation for Healthcare Workers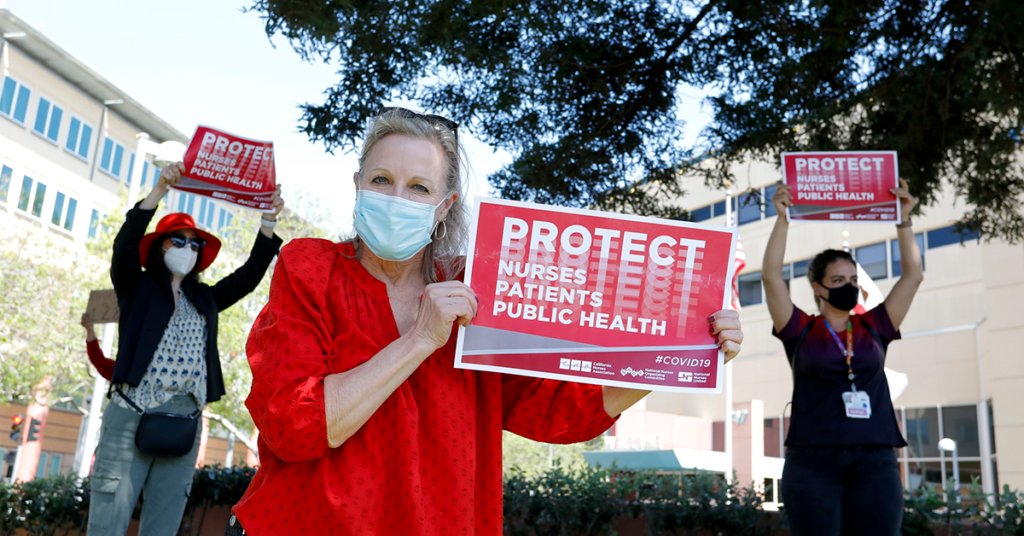 The California Nurses Association (CNA) today criticized California State Senators who defeated a bill ensuring workers compensation for predominantly female nurses and other healthcare workers harmed on the job the same protections provided to male dominated professions with gender bias.
SB 213, introduced by San Jose Democratic Sen. Dave Cortese, would have established the same guaranteed coverage for medical bills and lost wages for frontline caregivers for job-incurred debilitating illness, like Covid-19, or injury that is extended to predominantly male professions, such as police officers and firefighters. It was defeated on the Senate floor late Thursday, failing short by just one vote.
"After a devastating year in which nurses and other essential healthcare workers endangered their own lives and health caring for gravely ill Covid-19 patients, the refusal of a handful of Senators to pass this legislation is shameful," said CNA President Zenei Triunfo-Cortez, RN.
Nurses and other healthcare workers are regularly exposed to dozens of other virulent illnesses, as well as Covid-19, as a condition of their employment. But nurses have not been automatically covered for workers compensation despite the fact lawmakers have provided it for male public safety officers who often treat the same patients in the field.
"It is hypocritical to call nurses 'heroes' for saving lives during the pandemic, but then deny them the certainty of healthcare coverage when they become infected," said NNU Executive Director Bonnie Castillo, RN. "When the same protection is offered to male first responders, the gender disparity is obvious."
Senators who voted against SB 213, or helped defeat it by abstaining, "showed they cared more about protecting the profits of the hospital industry than in the health and safety of their caregivers," said Triunfo-Cortez.
The California Hospital Association lobbied extensively against the bill, and its close ally, the California Chamber of Commerce, listed SB 213 on its disingenuous "job killer" list of bills.
The virulent Covid-19 pandemic, which has had a calamitous effect on frontline caregivers, "makes the Senate vote even more disgraceful," said Castillo. As of yesterday, at least 111,479 healthcare workers have been infected with Covid-19 and 463 have died, according to the state's own data. And with new infections and deaths continuing to be counted every day, the need for the bill is even greater, Castillo added.
Automatic insurance through workers compensation for job-related harm that provides medical benefits and is especially important, notes CNA. This is because of what the union calls the intensive effort of hospital employers to fight access to workers comp claiming the caregiver was not infected or injured on the job.
In recent months, hospitals have often claimed nurses infected with the highly contagious Covid-19 virus were exposed "in the community" rather than in the hospital. This refusal comes as most California hospitals have failed to regularly provide the optimal Personal Protective Equipment (PPE) and other proper infection control measures.
"The combination of sexism and the industry priority of profits over the health of their employees is a toxic mix," said Castillo. "SB 213 was an important step to correct the injustice of this gender disparity."
"The hospital industry and the legislators who are indifferent to that pain may be assured that we are not done fighting to protect nurses and other healthcare workers," said Stephanie Roberson, CNA's Director of Government Relations. "We will be back."
This content was originally published here.