Nurses celebrate step forward for gender equity in workers compensation as CA Senate passes SB 213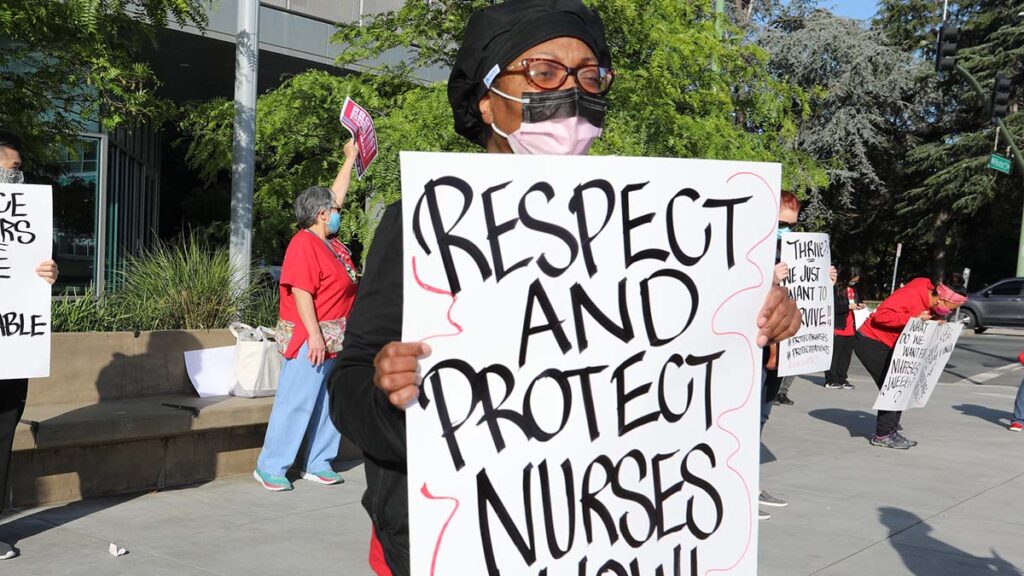 When the California state Senate earlier this week passed SB 213—a bill that will ensure nurses and other health care workers are automatically presumed to be eligible for workers' comp if they experience some common work-related conditions—nurses across the state celebrated the win as a step forward for gender equity.
Conditions covered by SB 213 include Covid-19 or other infectious disease, respiratory disease, cancer, post-traumatic stress disorder, and musculoskeletal injuries.
"It's so common that nurses have to jump through hoops, while we're sick or hurt, just to receive paid time off for illnesses or injuries that we got at work. And after all that effort, we can be denied coverage. We are thrilled that California senators passed this bill that will give such a critical protection to our women-dominated workforce. It's long overdue and especially important during the deadliest pandemic in a century," said California Nurses Association president Cathy Kennedy, RN.
"The core of this bill is simple. SB 213 recognizes and addresses a glaring inequity in California law. It corrects an historical wrong made during a very different time," says Senator Dave Cortese, the bill's author and chair of the Senate Labor, Public Employment and Retirement Committee. "Equity is only possible when all frontline professionals, who face the same risk of illness and injury due to the nature of their work, are given the same guaranteed benefits."
California has laws granting many public safety workers—male-dominated professions such as police officers and firefighters—"presumptive eligibility" for certain conditions, like lower back pain, Methicillin-resistant staphylococcus aureus (MRSA), and PTSD. In other words, these illnesses or injuries are presumed to be job related, and the worker is automatically eligible for workers' comp benefits.
Nurses, on the other hand, still have no presumptive eligibility at all, even though the nearly 90 percent female profession experiences many, many known hazards at work, now including Covid-19. According to the Bureau of Labor Statistics, in 2020, workplace hazards that required at least one day off work totaled 220 for Firefighters and 200 for police officers. The total for registered nurses was 78,740.
"The disparity in workers' comp protections is sexist. Our heroic first responders and law enforcement workers deserve all the protections they have. Nurses are simply asking for those same protections," said Kennedy. "If we are caring for the same patients, exposed to the same illnesses, and experiencing on-the-job injuries at higher rates, why is our women-dominated profession not protected in the same way?"    
Now that SB 213 has passed the senate, it heads over to the California state Assembly where it will be heard in policy committee. Nurses say passing these critical protections can't happen soon enough.
"Nurses give our all to protect our patients, every single day. We must be protected, in turn, and we urge California state Assembly members to do the right thing and keep moving this bill across the finish line," said Kennedy.
The California Nurses Association has 100,000 members statewide and is affiliated with National Nurses United, the largest and fastest growing union of RNs in the nation.
This content was originally published here.