Louisiana Drivers Pay Highest Auto Insurance Premiums In U.S., Double National Average, While Rates In Most States Are Falling, Report Says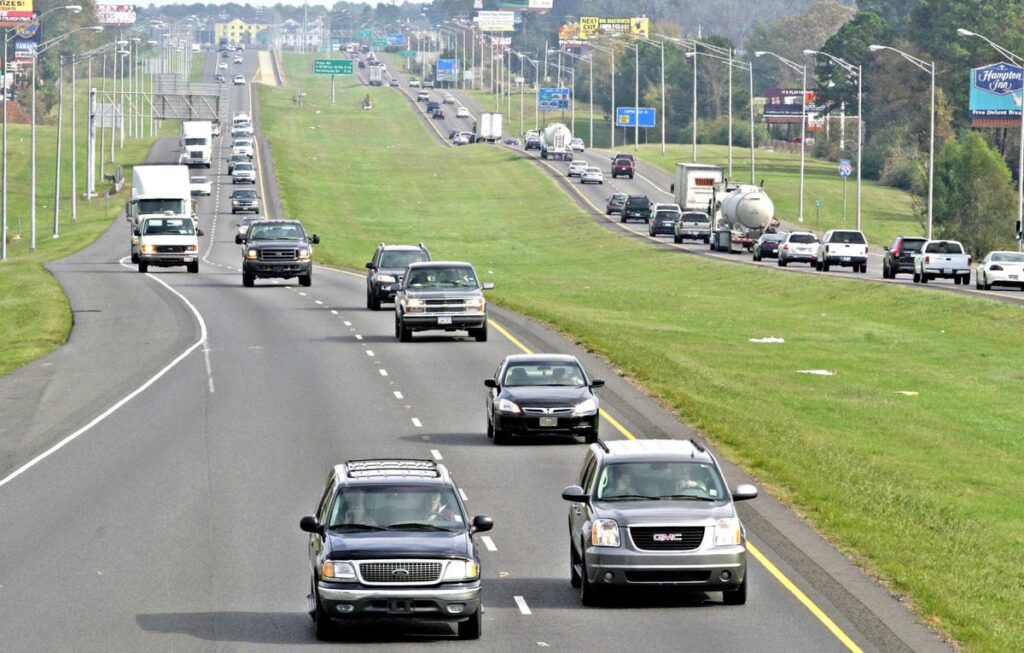 Louisiana, Michigan and Florida, states which are relatively densely populated and plagued with high proportions of uninsured drivers, currently have the highest auto insurance costs in the country, according to a report released Tuesday by Insure.com, a research unit of marketing firm QuinStreet Inc.
Motorists drive their vehicles along Interstate 20 in Shreveport, Louisiana, U.S., on Wednesday, … [+] Nov. 21, 2007. The American Automobile Association expects a record 38.7 million Americans will travel 50 miles (80 kilometers) or more this week, with about 80 percent of those trips by car. That would top the previous mark of 38.1 million travelers last year. Photographer: Mario Villafuerte/Bloomberg News
Key Facts
The national average of auto insurance premiums dropped by 6% from last year to $1,428 – with rates falling in the majority of states, while rising or staying flat in nine states, suggesting the Covid pandemic forced many drivers to stay off the roads.
Louisiana's insurance rates jumped by 19% from last year, to an average annual premium of $2,839, about double the national average, partly because of its large number of uninsured and underinsured drivers – about 11.7% of drivers in the state are currently uninsured. 
After Louisiana, the states with the highest average insurance costs are Michigan ($2,112), Florida ($2,082), California ($1,966) and Missouri ($1,895).
The five states with the cheapest insurance rates are Maine (average premium $858, down from $912 last year), New Hampshire ($885), Wisconsin ($938), Idaho ($985) and Ohio ($992).
Key Background
States with very high premiums typically have one or more of the following characteristics: "unique" insurance schemes, high-density populations, many uninsured drivers and a proliferation of costly lawsuits which often push up premiums, Insure.com said. As each state sets their own auto insurance regulations, a complex array of factors can influence the premiums residents pay. Louisiana and Michigan switched places from last year's rankings, but the top three states (including Florida) remained the same. Michigan's auto insurance premiums are very high because as a "no-fault" state, drivers are required to buy personal injury protection to pay for injuries, no matter who was responsible for the crash. Moreover, consumer finance firm WalletHub noted, Michigan's PIP requirements are unusually high, with most policyholders needing at least $250,000 in PIP. But one of the biggest factors in high auto premiums is linked to the presence of uninsured drivers as insurance companies usually pass the cost of such drivers onto the insured. In the state of Michigan, one-fourth of drivers were estimated to be uninsured in 2019, according to the Insurance Information Institute (versus a national average of 12.6%). The corresponding figure for Florida was 20.4%. "Keeping auto insurance affordable is more difficult when a significant number of drivers refuse to carry their fair share of the costs," said David Corum, vice president of the Insurance Research Council.
States with the cheapest auto rates, Maine, New Hampshire and Wisconsin, tend to have lower population densities which leads to fewer car accidents and claims, a higher percentage of insured drivers and competitive insurance markets. The average premium in the cheapest state, highly rural Maine, dropped by 6% from last year, while more than 95% of its drivers are insured, according to Insurance Information Institute, the fourth highest figure in the country.
While one's state of residence can influence auto insurance rates, other factors, Insure.com said, including driving record, age (teens pay the highest premiums due to their predilection for accidents), gender (male teenagers have higher premiums than their female peers), one's neighborhood (high crime areas usually mean higher premiums), and credit score (low scores linked to higher likelihood of making a claim), type of vehicle (sports cars and luxury autos are more expensive to insure than most other vehicles due to higher repair costs). Even the weather can shape auto premiums – states prone to severe weather patterns, like flooding and hurricanes, tend to have higher rates.
Big Number
$248 Billion. That's the total amount of premiums paid out involving private passenger automobile insurance in 2019, up from $240 billion in 2018, said the Insurance Information Institute.
This content was originally published here.