Does pet health insurance make sense for clients?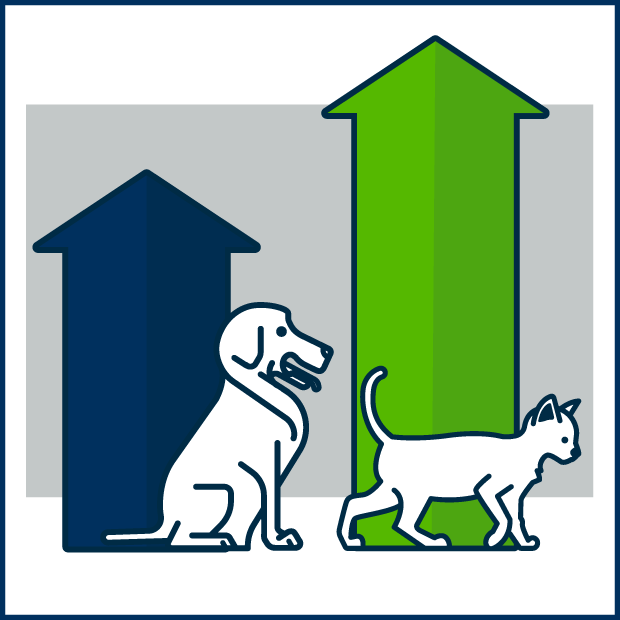 Pet health insurance can help pets get the health care they need. Today's chart looks at several key data findings that illustrate the value of insurance, for both pets and veterinary practices.
What the data show
Research shows that insured pet owners typically get more veterinary care services for their animals than those without insurance. This is true for both dogs and cats and likely translates to healthier animals.
Research shows that pet owners are more likely to follow their veterinarian's recommendations for care if their financial concerns are addressed. This is good for pets, clients, veterinary team members, and practices. 
What does it mean for veterinary practices?
Talking with your clients about pet health insurance and its potential benefits can help improve patient care and enrich client relationships. The topic is a natural extension of the health care that we and our veterinary teams provide. That's why AVMA endorses the concept of pet health insurance and encourages veterinary teams to proactively educate clients about it.
There are certain times when it's especially impactful to talk about insurance: during first appointments with new clients and new pets. Research shows that most pet health insurance is purchased after a pet's first visit to a veterinarian or within the first six months of pet ownership. Incorporating a question about pet health insurance into new client intake forms and your new puppy/kitten talk checklist can have a powerful effect over the full course of your new patient's lifetime.
Tools for AVMA members
You're not on your own here. AVMA members have access to a suite of tools to make conversations about pet insurance easier and more productive with clients. These resources are available free of charge to all AVMA members at avma.org/PetInsurance:
This content was originally published here.