Why Businesses are Turning to Cyber Insurance for Protection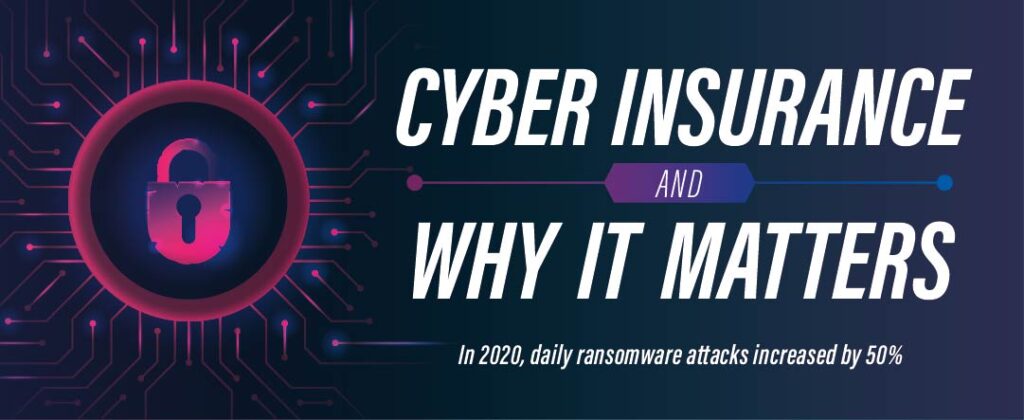 Storing data electronically is convenient for businesses across industries.  While the storage abilities of the Internet benefit many, the drawback is that online data is always at some level of risk for cybercrime.  As internet access expands worldwide, so too does the volume of business taking place online.  Sharing data across multiple apps and clouds, among other acts, increases the opportunity cyber criminals have to exploit company weaknesses.
Cyber crime is one of the most lucrative criminal ventures. In 2016, ransomware caused $209 million in damages.  By 2020, that figure exploded to $170 billion.  Even large corporations are not safe from hackers.  The recent attack on Colonial Pipeline represents the largest attack ever on a US energy system.  When JBS paid $11 million in ransom to their cyberattackers, it was the largest reported ransom payment on record.
While these major incidents make the headlines, the real tragedy is when cybercrime targets small to midsize businesses (SMBs).  In the last year alone, 2 in 3 SMBs were victimized by at least one cyber attack.  3 in 5 of the victimized SMBs went out of business within 6 months after a data breach or hack.  The damage these fallen companies suffered went beyond a ransom payment.  Businesses also lost money from recovery efforts, halted operations, and their sullied reputation as a result of the cyber attack.
Cyber insurance can't prevent an attack, but it can curb the fallout from one.  SMBs' cyber insurance policies usually cover up to $1 million in damages.  Coverage includes loss of profit, liabilities than arise from the cyber attack, and lawsuits filed as a result of the cyber attack.  Gaps in coverage include loss of damaged devices and intellectual property the company loses in a data leak.  Many see the investment as worth it despite these imperfections.
This content was originally published here.