The Story of a Broken Knee, a Private Jet, and a Travel Health Insurance Mistake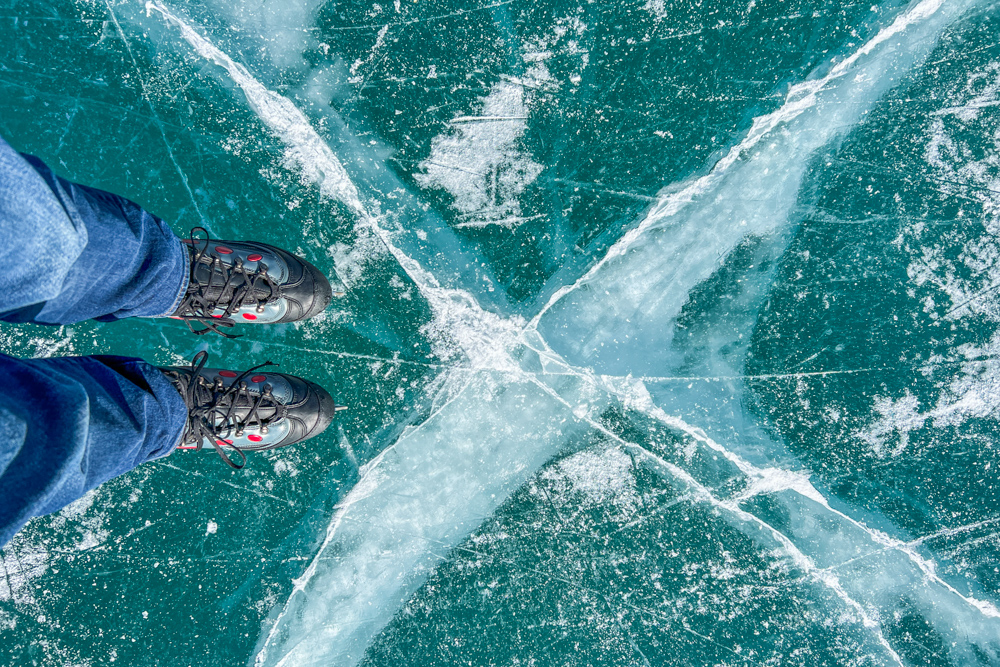 Travel Health Insurance
A confession: we've never purchased travel health insurance. We've never purchased any sort of travel insurance actually. We've always had a medical evacuation policy through MedJet, but that's not insurance – they'll simply transfer you to a hospital of your choice if you're hospitalized in a foreign country. And I had never regretted not purchasing insurance. Nothing bad had ever happened to us while traveling, and anytime I've booked a trip that I thought may not happen, I've used (refundable) frequent flier miles and made sure hotel reservations could be cancelled with no penalty. That no-insurance philosophy worked very well for us…until it didn't.
Ice Skating on a Frozen Lake
The week before Christmas we traveled to Colorado Springs and headed to the mountains for winter fun. We spent a couple days skiing and then decided to take a break from the slopes for an afternoon and go ice skating instead.
This was the first time we had skated on a lake. The scenery was undoubtedly prettier than skating inside, but the ice was far rougher than a professional rink, and there were cracks – a lot of cracks. If you skate over a crack perpendicularly there's no issue, but if you happen to skate straight into a crack length-wise, it can swallow your skate. That's what happened to my wife on the lap that was going to be her last of the day anyway – she went into a crack, her skate immediately got stuck and her left knee went straight down onto the ice. She felt her kneecap crack.
I quickly dropped the kids off at our condo and took my wife to Urgent Care. An x-ray confirmed the break, and they gave her crutches and a brace. Back at the condo we returned our rental skis several days early, packed up our clothes and food and drove to Colorado Springs – our ski vacation was over.
Medical Care for a Broken Knee
In Colorado Springs we headed to the orthopedic surgery center that the US Olympic Team uses, and my wife was told that she actually may not need surgery. It was a clean break and the two halves of the kneecap were still aligned. She needed to keep her leg perfectly straight and elevated, and get another x-ray back home in California in two weeks to verify that the knee was, in fact, healing itself.
Getting Back to California
The problem was getting back to California. My wife was in extreme pain and could barely walk, even using crutches. We also had the doctor's instructions to keep the leg straight and elevated.
Our return tickets on United weren't going to work. We were supposed to fly to Denver, have a three-hour layover, and then continue on to Santa Barbara. The airlines that last week of December were cancelling over 1,000 flights a day, and the other flights were 100% full. We couldn't reserve a full row for her to be able to keep her leg up, and a first class seat wouldn't have been much better – there was no way to elevate the leg. Plus the flights and layover would have been miserable for her.
We made the choice, for the first time ever, to book a private jet. Normally we would see that as wasteful, but for a medical emergency it made sense. The problem was that there was no availability. I downloaded a dozen jet company apps, and emailed a dozen more companies, and not one had availability. Most never got back to me at all. So I went out on Facebook and Instagram and asked if friends or followers had connections, and it turns out one follower did. She was able to get us a jet from Colorado Springs to Santa Barbara the next evening. The price: $18,650. We booked it.
I had probably 50 people on social media ask me if insurance covered this. Short answer: no. First, we didn't have a specific travel health insurance policy. Even if I had briefly considered policies in the past for more exotic destinations, like African safaris, I never would have thought to purchase a policy for a Christmas trip to Colorado to ski and see family. Second, our MedJet policy didn't come into play because my wife wasn't hospitalized. Third, our regular health insurance would have covered 40% if it had been an air ambulance, but it wasn't. It was our choice to get a private jet because of doctors orders and my wife's pain and the impossibility (in our determination) of making commercial flights work during that very chaotic post-Christmas week.
Total Costs of a Broken Knee
Thus far, our post-insurance costs from this accident are:
Insurance Going Forward
Our medical insurance is covering most of the costs of this injury, except for the largest item by far – the jet. So my thoughts on insurance have officially changed. As soon as my wife was home from surgery, I started looking into policies. I looked for coverage that would have taken care of this specific situation, and that didn't need to be purchased on a per-trip basis – again I know that even if I bought policies for a lot of trips, there are always things like quick trips with my kids for concerts/events or to see family that I would never think to get policies for. As we learned, those trips can result in very expensive accidents just like any other trip.
Our Travel Health Insurance
In the end I chose an annual family policy through G1G. Not only would it have covered the cost of the jet, since it was required my doctor's orders, G1G would have helped us find a jet. They also would have covered the cost of Urgent Care and our other doctor visits in Colorado before we were able to get home.*
I hope that we'll never need to file a claim on this new policy of course, but I'm glad I have it in place. FYI, G1G also has policies for individual trips (medical and trip cancellation), emergency evacuations and visitors to the US. Learn from my mistake! Make sure you have health insurance in place before your next trip.
*Most travel insurance plans have a benefit known as "Medical Repatriation." This covers the costs (up to the benefit limit) to bring you back to your return destination if an injury affects your regular travel plans. Most of the time, travelers with injuries can be accommodated on commercial flights but, in many cases, an air ambulance or private jet would be used because the injury requires specific seating arrangements, which would have been the case for my wife. This varies on a case-by-case basis and the travel assistance company included in your plan will determine the best way to repatriate you as well as help make the arrangements. 
Your Turn
Have you always traveled with insurance? Or have you traveled without insurance and similarly regretted it? This is a whole new area for me – I'd love to hear your story.