TBWANZ & Southern Cross Health Insurance Enlists Neil Diamond's Banger To Tug At Our Heart Strings – B&T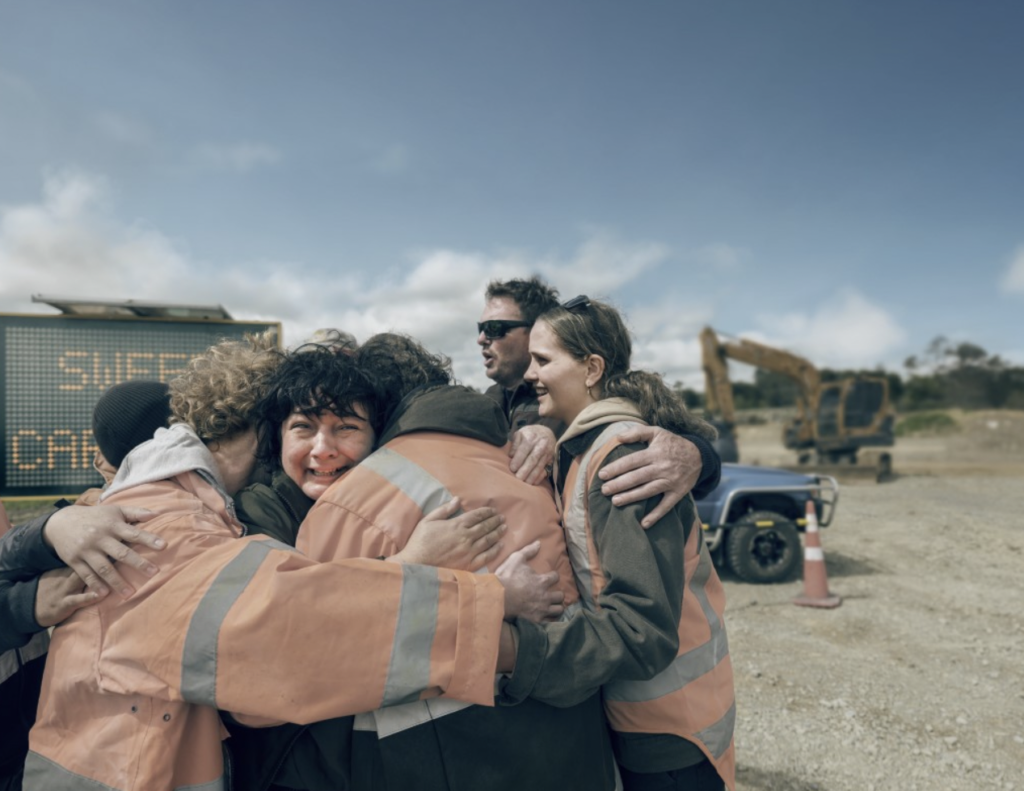 The spot builds upon the not-for-profit health insurer's 'With You' brand platform, highlighting the importance of support when it counts. 
Southern Cross Health Insurance and TBWA\New Zealand launch the latest campaign from its 'With You' brand platform.
Celebrating being part of a collective, the spot highlights the power of being surrounded by a team that truly cares. 
 The commercial tells the story of Caroline, the leader of a construction crew. Quickly, her connection with each of her colleagues becomes clear, whether she's enjoying a tea break with them, motivating them, or playing cards with them, until one day she's not there. As she undergoes treatment in a Southern Cross hospital, her absence is felt throughout her team. But they keep things moving while hatching a plan to rally around her upon her return.  
Driving back up to the site, she hears them burst into a touching rendition of Neil Diamond's 'Sweet Caroline', embracing her back into the crew, demonstrating: 'when you're with the right people, it shows.' 
At the heart of the brief, the not-for-profit Friendly Society Southern Cross wanted to communicate the extraordinary value of being part of a team that truly cares.  
Inspired by this notion of shared humanity, TBWA\NZ sought to compose a vignette of people doing right by one another when the going gets tough. At a cultural level this resonates strongly with New Zealanders just as it does for Southern Cross.  
TBWA\NZ opted for a personal story to powerfully communicate the larger human truth, crafting a realistic narrative and characters so viewers could see the parallels in their own lives.  
Inspired by the construction site located outside TBWA\NZ's offices, the main character is loosely based on a Māori woman with the natural aura of a leader who works there. To craft the final big gesture, TBWA\NZ drew on their experiences at sports stadia, knowing how a song like 'Sweet Caroline' unites a crowd. The tune also provided the team with the perfect name for their protagonist. 
Regan Savage, Head of Marketing & Engagement, said:As a for-purpose social enterprise we are totally focused on helping our members have more years of good health. We pay out more claims in number and value than any other health insurer, we put surpluses back into keeping costs and premiums down and service levels up, and we respond to what our members tell us they need. 
 "We've made this campaign to show the importance of being with people who have your back, and what it means to be a member of Southern Cross Health Insurance. We offer exceptional value; we're no run-of-the-mill insurer."
This campaign launches a sea-change in what it means to be a member, with new membership benefits like mental wellbeing counselling and annual health checks. These are our values in action. We can do this because of our membership model, and it proves how invested we are in our members' health. 
 The marketing team at Southern Cross Health Insurance is super proud of this new work, and we can't wait to hear Neil Diamond's classic song belted out around the country as more New Zealanders come to see us in a fresh new light. 
Shane Bradnick, Chief Creative Officer, said: "The story centres on Caroline and her merry road crew, but the message will appeal to all New Zealanders.
"We all have a 'Caroline' in our lives, someone who gives everything for her crew and inspires us to do the same. It's a great analogy of what makes Southern Cross so special. As a Friendly Society without shareholders to return dividends to, Southern Cross is focused purely on supporting its members.  
 "A big thank you to Joel Kefali and Good Oil, who have done an amazing job bringing out the heart and soul of Caroline and telling a beautiful story many will love." 
 The campaign builds upon Southern Cross' 'With You' brand platform, which speaks to the idea of having someone's support when it counts. It also follows on from the brand's previous campaign which celebrated real workforces across New Zealand.
The campaign adds depth and meaning to its positioning leading to its second most successful year of growth in a decade. With this next instalment, TBWA\NZ adds another layer of heartfelt storytelling to the brand, this time highlighting the values New Zealanders and Southern Cross hold dear, prioritising people over profit. 
Credits: 
Client: Southern Cross Health Insurance 
This content was originally published here.