NY bill seeks to expand health insurance to currently ineligible immigrants. What to know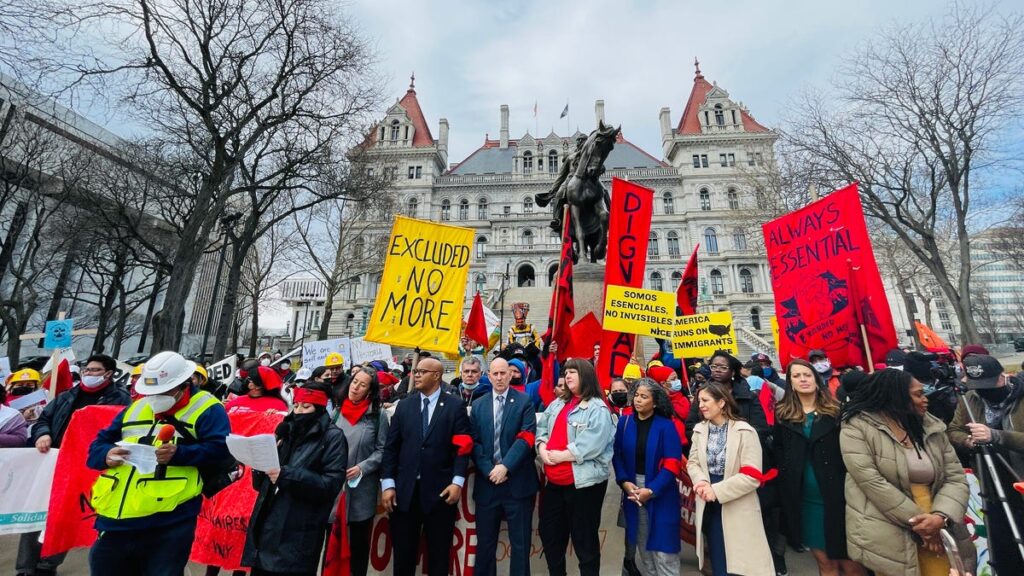 Justice Bus for Excluded Workers launched in Port Chester
A rally was held in Port Chester, Jan. 6, 2022, to launch the "Justice Bus". The bus will travel through New York State to provide information about the Excluded Worker Fund.
Mark Vergari, Rockland/Westchester Journal News
Nearly 46,000 people in New York who are currently ineligible for public health care programs due to immigration status would gain access to health insurance coverage under proposed state legislation, a report shows.
The bill is being debated as part of the state budget process, with both the Assembly and Senate including it in respective one-house budget proposals. Lawmakers and Gov. Kathy Hochul are pushing to finalize the roughly $216 billion budget by Friday.
The legislation would establish a state-funded Essential Plan for New Yorkers living at up to 200% of the federal poverty level, who are currently excluded from health insurance coverage due to immigration status, according a coalition of business and health groups supporting the bill.
"New York can step up and do the right thing," Elisabeth Benjamin, vice president of health initiatives at Community Service Society of NY, said in a statement, addressing the legislation.
"And the price is right," she added, noting her group estimates it would cost $345 million to expand the coverage, which is "a small fraction of New York's health care budget."
"No New Yorker should be denied health care because of immigration status," said state Assemblyman Richard Gottfried, D-Manhattan, and co-sponsor of the bill.
"New York should be a progressive leader in promoting health equity, and expanding health coverage to undocumented adults is good fiscal and moral policy," he added.
It remains unclear if Hochul, a Democrat, will approve the bill supported by the Democrat-controlled Legislature.
Responding to questions about the legislation, Avi Small, a Hochul spokesman, said in a statement Friday the governor's executive budget "includes bold initiatives to embrace this once-in-a-lifetime opportunity to invest in our future, and we look forward to continuing to work with the Legislature to finalize a budget that serves all New Yorkers."
Advocates are also pushing lawmakers to support other policies and initiatives for undocumented workers, including an additional $3 billion for the Excluded Workers Fund, which provided relief for people not covered by other forms of unemployment insurance. 
How would a health plan for undocumented New Yorkers take shape?
A recent report by Community Service Society and the independent Citizens Budget Commission evaluated the legislation, which would apply to adults ages 19 and up regardless of immigration status.
Among the findings:
New York City Comptroller Brad Lander also recently released an analysis of the economic benefits of the legislation for individuals, families, employers, and health care providers. 
Among the findings:
What advocates say about insuring undocumented New Yorkers
The legislation has support from a broad coalition of advocates and business groups, including the Business Council of New York State, the New York State Conference of Blue Cross and Blue Shield Plans, and New York Health Plan Association.
The groups noted in a statement that immigrant New Yorkers have worked throughout the pandemic in essential jobs, "risking their health to be able to provide for their loved ones and keep communities running."
"Meanwhile many have continuously been excluded from access to health care coverage due to their immigration status," the groups added.
A 2021 Families USA report revealed that more than 8,200 New Yorkers died from COVID-19 due to a lack of health coverage, including an estimated 2,700 individuals who were undocumented, the groups added.
Some of the advocates noted the bill would build upon prior state and federal laws, including the Affordable Care Act in 2010, which have expanded coverage to millions of New Yorkers, reducing the state's uninsured rate to less than 5%.
Murad Awawdeh, executive director of New York Immigration Coalition, said the groups "believe it is long past time that we extend health coverage to low-income New Yorkers, regardless of immigration status."
"This goes beyond healthcare justice; it is a critical first step in New York State's road to recovery," he added.
Support local journalism
We cover the stories from the New York State Capitol and across New York that matter most to you and your family. Please consider supporting our efforts with a subscription to the New York publication nearest you.
David Robinson is the state health care reporter for the USA TODAY Network New York. He can be reached at drobinson@gannett.com and followed on Twitter: @DrobinsonLoHud
This content was originally published here.