Navigating the pet health insurance fervor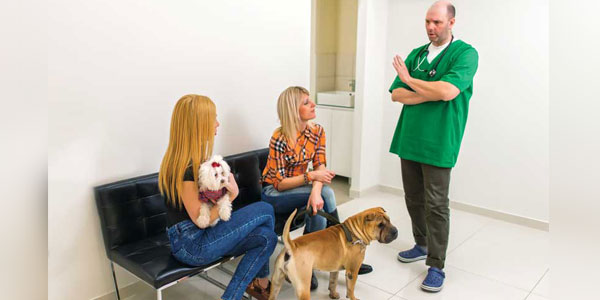 Pet health insurance can be an incredible tool, benefitting not only pets and their owners, but also veterinarians. According to a study conducted by the American Veterinary Medical Association (AVMA) and Mississippi State University, an insured pet owner is able to provide, on average, an additional $211 in care for their pet each year. This translates to a $633,000 increase in annual revenue for veterinarians that see 3,000 pets each year and also results in pet owners being better equipped to accept recommended treatment options. It's no wonder AVMA endorses "clear" and "transparent" pet health insurance policies and "encourages veterinary health-care teams to proactively educate their clients on such resources."
Not the de facto authority
As pet health insurance becomes increasingly more ubiquitous, veterinarians are seen by pet owners to be authorities on treatment financing options. In fact, 71 percent of pet owners report they are further incentivized to purchase pet health insurance when their veterinarians have coverage for their own pet(s) and can speak about their particular plans. However, being viewed as the ultimate experts in pet health insurance has put harmful and unnecessary strain on already harried veterinary practices.
For instance, many clinics and hospitals are inundated with dozens of pet health insurance pitches on a near constant basis—waiting rooms are teeming with a variety of potentially conflicting brochures. When questions about pet health insurance inevitably arise, many veterinarians are not only put on the spot to quickly and confidently reference one insurance brand, they also find themselves in the uncomfortable and inappropriate position of having conversations about pet owners' personal finances. While it may be tempting (and understandably a time-saver) to respond to pet owners' inquiries about pet health insurance by simply handing them a slew of brochures from the waiting room, this can result in a perceived poor customer experience and puts far too much friction on pet owners' decision-making processes. Simplicity is key in driving pet owners to actually proceed with selecting a coverage option.
Also, it's worth noting veterinarians aren't the only ones impacted here. Often, veterinary technicians, assistants, and receptionists are peppered with questions about pet health insurance, usually during inopportune times and/or without having sufficient knowledge. There is also the practice-wide issue of veterinary staff potentially being liable for specific insurance recommendations they make to their clients. Additionally, since the bulk of the information clinics or hospitals currently rely on for pet health insurance is based on sales materials, veterinary professionals often assume the unwanted role of salesperson, rather than pet health educator.
For veterinarians to be able to refocus their time and intellect on treatment rather than treatment financing, a new approach is needed. Rather than reactively answering pet owners' insurance questions as they continuously arise, be proactive and highlight early on that a one-size-fits-all approach to pet health insurance isn't the answer. After all, there are simply too many factors to take into account (including legal implications, if you're not a licensed insurance agent) to wholeheartedly endorse a single treatment financing option on the fly. There are breed-specific variables to consider, for instance, and related health risks that may vary across different insurance providers. The pet's age matters, too, as do lifetime costs of the plan (Coverage that appears to work well today might prove insufficient and/or too expensive as the pet ages over the next five to 15 years).
Other factors requiring careful consideration rather than off-the-cuff estimations or assumptions include the pet's geographical location, as well as appropriate financing options for his or her owner. Also, there's the matter of deciding whether to go with a wellness insurance plan and/or an illness/injury insurance plan. Clients often mistakenly assume they're completely covered if they purchase wellness coverage. However when a $3,000 surgery bill arrives, they're going to be thrown for a potentially debilitating loop.
Effective points of action
More tactical steps for appeasing pet owners' interest in pet health insurance—without burdening practice staff—include adding pet health insurance content to veterinary practice websites. Consider including a dedicated pet health insurance resource section, for example, as well as answers to common pet health insurance questions on a FAQ page. By offering educational content online, less strain is placed on receptionists and other practice staff.
Another tactical tip is to display generic posters in veterinary practice waiting areas and/or exam rooms that outline the benefits of pet health insurance, as well as clear steps to take to acquire coverage and access more information. Overall, to stay ahead of pet owners' interest and questions, veterinary practices should proactively display as much information as possible about pet health insurance, whether it's via a website or physical display.
In the initial conversations with new pet owners, veterinary professionals may also consider recommending clients leverage pet insurance comparison tools. Just as consumers consult online resources to identify the best fitness tracker or SUV, pet owners can take advantage of comparison technology that offers data-driven recommendations and customizations to find the best coverage options for their pet's unique health risks. In doing so, clients can review a variety of plan options on their own time, identify any critical coverage exclusions, plan for expected price increases over time, access multipet discounts, and receive customer support for coverage before, during, and after purchase.
Comparing plans
Pet health insurance can be invaluable to veterinary practices, increasing the number of patient visits, enhancing patient care, growing revenue, and improving compliance. It can also serve as a valuable employee benefit to clinic staff and prospective new hires, enabling practices to offer essentially free treatment for employees' pets while abiding by related tax rules. Still, veterinarians and practice staff shouldn't have to be experts in insurance.
Proactively educate pet owners on the value of pet health insurance and the benefits of a multifaceted approach. Wellness checkups and new client visits are the perfect times to have this conversation. By taking an unbiased approach that includes simplified, personally guided options that account for a pet's breed, age, and location, pet owners can identify the best plans for their pet's specific health risks. What's more, as pet owners are able to acquire more effective pet health insurance, veterinarians gain the opportunity to see their patients more often and pet owners are more financially prepared to accept veterinarians' recommended treatment options.
Woody Mawhinney, CEO and cofounder of Pawlicy Advisor, was relieved when his pet insurance covered his Shar Pei's monthly prescription costs. However, many veterinarians and pet parents in his community shared with him the difficulties they faced when evaluating options. He launched Pawlicy Advisor to help veterinarians, aiming to improve the pet insurance experience by providing objective analysis, more thorough comparison, and a streamlined education experience.
This content was originally published here.