Keeping Score: Religious Employers Can Exclude PrEP From Health Insurance Coverage; 650 U.S. Locations Replace Anti-Indigenous Names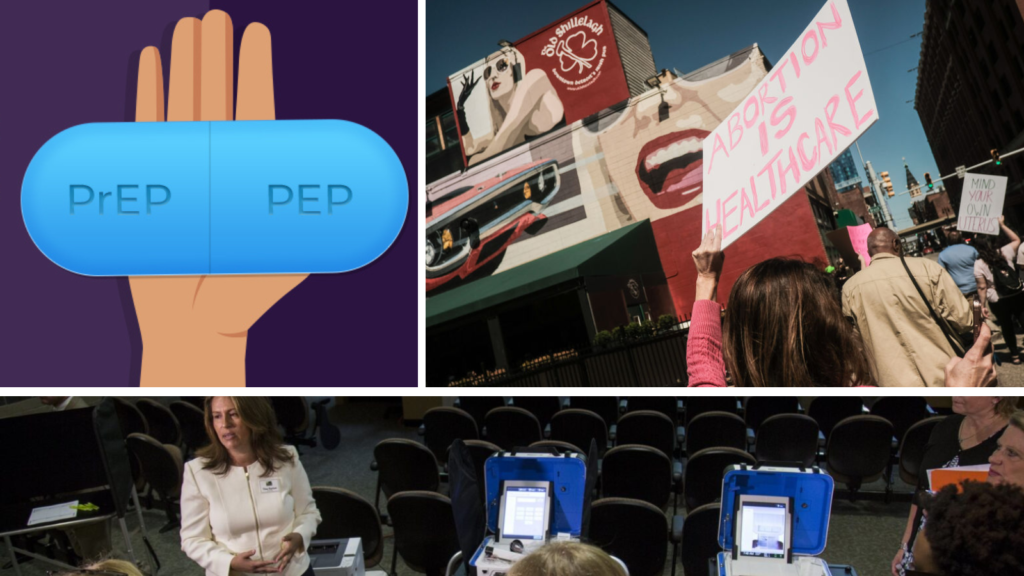 In every issue of Ms., we track research on our progress in the fight for equality, catalogue can't-miss quotes from feminist voices and keep tabs on the feminist movement's many milestones. We're Keeping Score online, too—in in this biweekly round-up.
Lest We Forget
"Our veterans—who often have higher rates of chronic health conditions—have sacrificed the unimaginable for our nation and the last thing they should worry about is that our country will abandon them, risk their health and deny their fundamental rights.
"Just as we owe our veterans the right to pursue having a family however they choose, we owe the heroes who risked everything overseas access to medically necessary care back at home—and for some veterans, that includes abortions—and I'll keep working to make sure this right is protected for all Americans."
—Senator Tammy Duckworth (D-Ill.) after Republicans attacked President Joe Biden's decision to maintain abortion care within the Veterans Health Administration (VHA) if the pregnant person's health is in danger or they were the victim of rape or incest.
"For almost every woman that has gotten an abortion, there's a man who has either been affected or liberated by that abortion too. In this moment it's really only going to be the vulnerability of men, and men talking to other men, that gives us the greatest hope of shifting things the fastest, soonest. … I think sometimes the way white folks don't like to talk about race and they say, 'We just want to center the person who's most impacted, so it's not my role to do anything or take a space and speak up.' But we know that when white folks take up space and say the right thing in rooms of other white people, that is the most shifting activity that can happen, more sometimes than any protest or any person writing a letter to the editor or anything like that."
—Rep. Alexandra Ocasio-Cortez (D-N.Y.) in an interview with GQ on her own experience with abortion and why men have a large role to play in advocating for reproductive freedom.
"It doesn't matter how much I do. I'm still not going to get paid as much as that guy, because of my vagina? … What I have seen—and I'm sure other women in the workforce have seen as well—is that it's extremely uncomfortable to inquire about equal pay. And if you do question something that appears unequal, you're told it's not gender disparity, but they can't tell you what exactly it is."
—Actress Jennifer Lawrence condemning Hollywood's wage gap, which disadvantages women cast and crew members.
"By refusing to certify these signatures, it is clear that some members of the State Board of Canvassers were playing politics rather than adhering to the will of the people. We are grateful to the Michigan Supreme Court for making sure that the over 750,000 Michiganders who made their voice clear in this matter were heard. In Michigan and across the country, we are seeing a wave of Americans fighting back for their freedom to decide—and calling out the MAGA Republicans who are hellbent on taking away our most fundamental rights. We are proud to support this initiative and will work closely with the Reproductive Freedom for All campaign and our partners to turn out in support of this initiative in November."
—NARAL Pro-Choice America President Mini Timmaraju in a statement addressing the Michigan State Board of Canvassers' rejection of the "Reproductive Freedom for All" ballot initiative, which secured over 750,000 signatures.
+ A ruling by a federal judge in Texas on Wednesday, Sept. 7, allows religious employers to leave PrEP out of their health insurance coverage. The 150 million Americans with employer-sponsored insurance are in danger of losing access to the drug, which prevents HIV.
+ Abortion pill access is also at risk since the overturn of Roe v. Wade, but a startup called Choix is letting customers buy the medication for future usage. The service, "known as advanced provision," will be offered in states where Choix is licensed, including California, Colorado, Illinois, Maine and New Mexico.
+ New Mexico is planning the construction of an abortion clinic near its border with Texas. An executive order by governor Michelle Lujan Grisham (D) allocates $10 million to the clinic in hopes that it serves some Texas residents who cannot obtain abortions in their home state.
"As more states move to restrict and prohibit access to reproductive care, New Mexico will continue to not only protect access to abortion, but to expand and strengthen reproductive health care throughout the state," Lujan Grisham said.
+ Nearly 650 U.S. locations with names that included a racist term for Indigenous women have been changed, including about two dozen in Colorado. The new names vary widely, but some include Indigenous terms proposed by tribes in the area.
"I feel a deep obligation to use my platform to ensure that our public lands and waters are accessible and welcoming. That starts with removing racist and derogatory names that have graced federal locations for far too long," Interior Secretary Deb Haaland said.
+ An Alabama law prevents pregnant women arrested for drug offenses—including marijuana usage—from posting bail. Instead, they are required to remain in state custody at a jail or drug rehabilitation program out of fear for the fetus's safety.
+ The South Carolina House approved a total abortion ban on Tuesday, Aug. 30—with exceptions for rape and incest—in a 67–38 vote.
+ In Michigan, a judge recently struck down a 1931 anti-abortion law which had been suspended months earlier. A proposed amendment, which garnered over 700,000 signatures, would officially enshrine abortion rights in Michigan's state constitution.
+ Over 15,000 Minnesota nurses went on strike beginning Monday, Sept. 12, due to understaffing exacerbated by the COVID-19 pandemic. It is the U.S.'s largest strike of private-sector nurses yet.
"I can't give my patients the care they deserve," Minnesota Nurses Association vice president Chris Rubesch said. "Call lights go unanswered. Patients should only be waiting for a few seconds or minutes if they've soiled themselves or their oxygen came unplugged or they need to go to the bathroom, but that can take 10 minutes or more. Those are things that can't wait."
How We're Doing
+ Women make up 7 percent more of Ohio's registered voters since the Supreme Court leaked its decision to overturn Roe v. Wade. They previously comprised just 47 percent of newly registered voters in the state, and in recent months, that number spiked to 54 percent.
+ A study in Reproductive Health found that one-in-three people seeking abortion care in the U.S. "would definitely or probably consider ending the pregnancy on their own if unable to obtain care at a facility."
There are more laws banning transgender girls from playing K-12 sports than there are transgender girls playing K-12 sports pic.twitter.com/bBrkCKQoWh
— Gillian Branstetter (@GBBranstetter)
+ Forty-eight citywide guaranteed income programs have cropped up since 2020 to provide cash assistance to vulnerable residents. Three of the programs—Los Angeles's, San Diego's and Oakland's—started in California, in addition to funds in Atlanta, Minneapolis, Denver and other major cities.
"When you provide resources to families that are struggling, it can give them the breathing room to realize goals that many of us are fortunate enough to take for granted," Los Angeles Mayor Eric Garcetti said.
(Explore the stories of guaranteed income recipients in the Jackson, Miss.-based Magnolia Mother's Trust. In Front and Center, these mothers speak on their struggles, their children, their work, their relationships, and their dreams for the future, and how a federal guaranteed income program could change their lives.)
+ The Williams Institute at UCLA released a new report on how transgender voters will be impacted by voter identification laws in the upcoming election. They found that while 878,300 transgender Americans will be eligible to voter in the midterms, almost a quarter of them (203,700) lack IDs "that reflect their correct name and/or gender," and nearly 65,000 live in states with severe voter ID restrictions.
+ A survey by The 19th revealed major distrust of American politicians when it comes to abortion legislation. Nearly three-in-four Democrats, and 70 percent of Republicans, described politicians as not adequately informed on the issue.
"For some people they'll spend years of a lifetime trying to get pregnant. Their journey is different than someone who has a surprise pregnancy or becomes pregnant in unwanted circumstances," Corona, Calif., resident Jessica Macias said. "Because of those nuances I don't think it's for anyone to decide—especially in these huge blanket terms—how many weeks along you can be before you access an abortion, or what kinds of contraceptives and abortion access you can obtain."
U.S. democracy is at a dangerous inflection point—from the demise of abortion rights, to a lack of pay equity and parental leave, to skyrocketing maternal mortality, and attacks on trans health. Left unchecked, these crises will lead to wider gaps in political participation and representation. For 50 years, Ms. has been forging feminist journalism—reporting, rebelling and truth-telling from the front-lines, championing the Equal Rights Amendment, and centering the stories of those most impacted. With all that's at stake for equality, we are redoubling our commitment for the next 50 years. In turn, we need your help, Support Ms. today with a donation—any amount that is meaningful to you. For as little as $5 each month, you'll receive the print magazine along with our e-newsletters, action alerts, and invitations to Ms. Studios events and podcasts. We are grateful for your loyalty and ferocity.
This content was originally published here.