Ins and Outs of Pet Insurance Claims | ASPCA Pet Health Insurance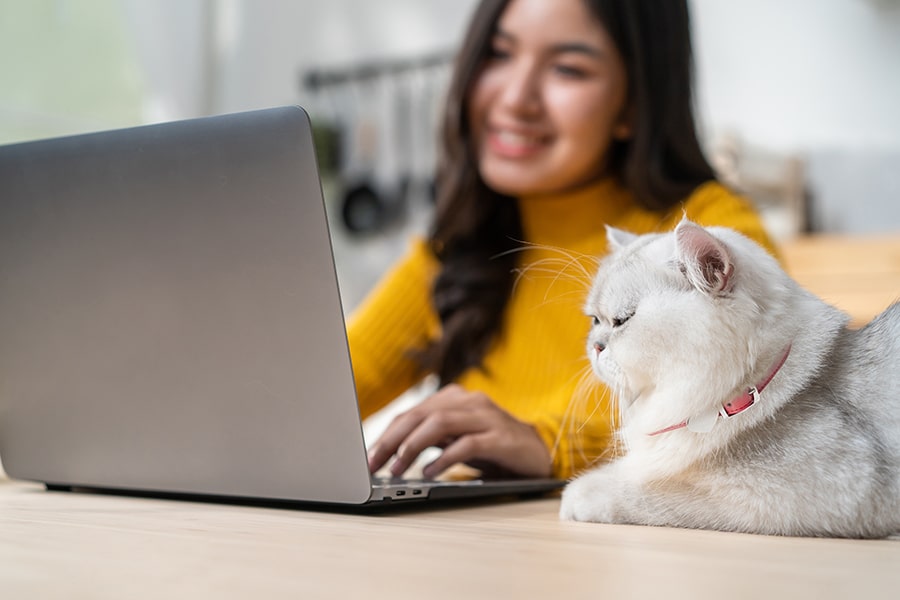 In the world of pet insurance, there are certain terms you will repeatedly hear or see, one of which is 'claims.' As a pet parent who may already have a cat or dog enrolled in a plan or if you're considering signing your best pal up to be covered, it's important that you understand what a claim is and how it works.
What Is a Claim?
A claim is an official request you make to your insurance company for them to cover something that's included in your insurance plan. For example, with car insurance, if you were to get in a wreck, you would submit a claim for your insurance to help cover the cost of fixing or replacing your car. With homeowners' insurance, if there was a small fire in your kitchen, you could submit a claim to help cover the costs of fixing your kitchen. Even with health insurance, your doctor can submit a claim to your insurance after a visit.
The same method is used with pet insurance. If you sign your dog up for an insurance plan and a few months down the road they break their leg, you may have a decent veterinary bill. After your visit, you can submit a claim to your pet insurance company, and they may be able to help cover the related costs.
Pet Insurance Claims Process
Let's say you signed your pet up for pet insurance, your waiting period is officially over, and after your pal's most recent veterinary visit, you submitted a claim—now what? After turning in your claim, most of your work is over, and you get to sit back, relax, and let your insurance provider take over from here.
While you wait for your claim to be processed, you can download your insurance provider's app (if available). For instance, with the ASPCA Pet Health Insurance program's My Pet Insurance app, you will be able to track the progress of your claim through each step of the process. Not only can this give you some peace of mind that your claim is being taken care of, but it shows transparency that your provider wants you to know how things are going. My Pet Insurance app even shows the average claims processing time, so you know how long to expect for your claim to be filed. Not to mention, being able to check the status of your claim at any given time with just a couple of clicks on your phone can save you from having to call or email your insurance company.
Whenever your claim is fully processed, you can keep an eye out for your Explanation of Benefits (EOB)—the statement describing how your benefits were applied. With some companies, you may receive your reimbursement in the form of a check, which will be delivered in the mail. If you'd prefer to skip this extra step, it will be worth looking into if your company offers direct deposit options.
Common Questions Concerning Claims
Insurance can initially seem intimidating or confusing, but by learning a little more about the insurance process and how exactly claims work, you can better understand what your plan covers, why a claim may have been denied, or why specific incidences take longer than others to be processed.
It's not uncommon for pet parents to have questions concerning pet insurance. Common ones include:
How Long Before I Can Claim Pet Insurance?
With most pet insurance companies, after you enroll your cat or dog, there will be a waiting period between when you sign up and when you can submit your first claim. This waiting period is in place to ensure that you do not try to submit a claim for a pre-existing condition (something most insurance companies do not cover). Even if your pet has a condition or shows symptoms during their waiting period, these will still be considered a pre-existing condition and cannot be filed as a claim once the waiting period has ended.
Before signing up for an insurance plan, it's essential that you read your provider's policy about waiting periods—they can vary. However, you can begin submitting claims once that small window has passed. Once enrolled, you can file a claim to your insurance provider the very same day of your pet's latest veterinary appointment.
Will My Pet Insurance Go Up If I Make a Claim?
Your pet's insurance premium will not go up because you submitted a claim. Knowing this, never hesitate to submit a claim in fear that your premium will increase—your insurance is there for you to use it.
That said, when it comes time to renew your insurance plan, make sure you read your provider's terms and conditions and inquire about any pricing changes with which you may be concerned. Some plans may go up in price from one year to another based on your pet's age and the increasing costs of veterinary care in your area.
What Is the Average Pet Insurance Claim?
Pet insurance claims can significantly vary since they cover many health-related costs, from diabetes and arthritis to broken bones and ear problems. There are also many factors to consider that can affect how much a claim will be. These can include your pet's breed, whether they are a cat or dog, their age, the condition being treated, the specific animal clinic or veterinarian you use, and your geographic location.
For example, according to our claims data,** the average claim amount for a Burmese cat receiving treatment for diabetes is $597.56. Compared with a Scottish Fold cat, their diabetes-related claim averaged a lower sum of $179.85. Looking at dogs, claims for arthritis in Alaskan Huskies were $205.60, and they remained similar for Great Danes, which were $221.56.
How to Submit Pet Insurance Claim
With pet insurance, submitting claims may occur frequently or only once a year—there is no way to know since many health problems in pets can arise without any warning. Whether the claim submitting process is something you frequently do and thus are a pro, or it's something you have yet to do, it's beneficial to know how to submit a claim.
After visiting your veterinarian and receiving your bill, you can submit your claim online, through the mail, fax, or mobile app. The specifics can vary per company. For example, with our My Pet Insurance app, all you have to do is open the app, select 'Claims,' add a photo of your invoice, and some additional information. Most pet insurance companies keep this process streamlined for the customer's convenience.
How Do Pet Insurance Claims Work?
There are a handful of differences between human health insurance and pet insurance. You are probably familiar with finding a doctor that is in-network, so you can ensure that your insurance company will help cover the costs of your visit. In a nice change of pace, with pet insurance, you don't have to shop around for a veterinarian that is in-network for your pet insurance—you can submit claims from any licensed veterinarian. You may also be able to visit specialists such as dermatologists or allergists and have those costs covered, depending on your insurance provider and plan.
After going through the process of submitting a claim, your insurance company will either approve or deny it. If it is approved and you have already met your deductible, they will send you a reimbursement after you've met your deductible.
How Do You Appeal a Claim?
When working with your pet insurance company, there may be a time when you submit a claim and reimbursement is denied. If this occurs, it is best to look at your claim to double-check that it does not involve a policy exclusion, such as a pre-existing condition. If your insurance company hasn't already reached out, you may want to contact them to receive clarification on why your claim was denied. This can help you better understand the situation, plus help you when filing claims in the future.
However, if your claim was denied and you believe that it was done so wrongfully, you can appeal a claim. With this request, you are asking your insurance company to review the previous decision, and you can explain why you should be reimbursed. In some instances, a claim being denied isn't because your insurance provider doesn't want to help. Instead, it can be due to a minor error such as incorrect patient information or data that was inputted incorrectly.
How Long Do Pet Insurance Claims Take?
Every insurance provider is different, and their claim turnaround time can vary slightly from one claim to another. That said, our team works diligently to make sure that pet parents are reimbursed as quickly as possible. Throughout this process, you can receive email notifications about your claim or track the progress through the Member Center.
Are you interested in signing your pet up for insurance? Get a free quote now—it only takes a few minutes.
If you have not signed your pet up for insurance, but are interested in doing so, be sure to research a few different providers and their plans. It's important that you find one that fits your budget and provides the coverage you may need.
Perhaps your canine or feline friend is already covered under a pet insurance plan, but you still have questions about some of the insurance lingo or the process of getting reimbursed. Don't hesitate to reach out to your insurance company and get your questions answered. It's also worth looking into the resources your company has readily available for your convenience. For instance, we have a resource center available for all pet parents to take advantage of, even if you aren't covered under one of our plans.
**Internal Claims Data, 2015-20 The information presented in this article is for educational and informational purposes only and does not constitute or substitute for the advice of your veterinarian.
This content was originally published here.