Inexperienced Mazda 3 driver shows us why we die die must have car insurance – MyAutoBlog – MyCarForum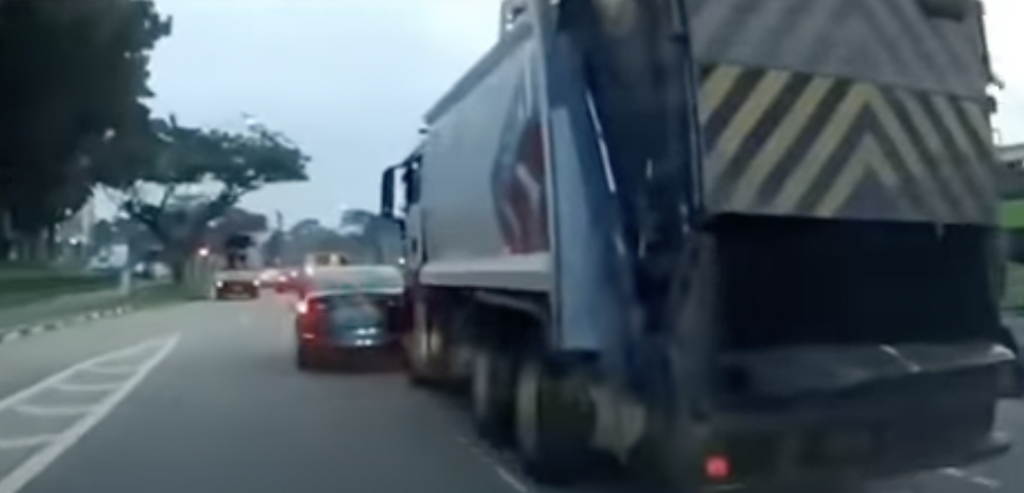 Another day, another joker on the road getting what he deserves for his reckless driving.
What happened
In the wee hours of the morning, a Mazda 3 driver is seen driving down Admiralty Road right beside a large garbage truck.
Wanting to filter to his right, the car flashes its right indicator lights to signal its intention. This is when things start to go horribly wrong.
Instead of letting the truck pass, the Mazda driver fails to check for safety and starts to drift to the right.
The weird thing about his behaviour is that he actually slows down right in front of the large truck as his vehicle performs the lane change.
As a result, the car ends up getting hit in the rear by the garbage truck and continues along the road for a while before coming to a stop.
It is unclear if the Mazda driver had hit the brakes on purpose or by accident.
Additionally, the fact that the Mazda kept going after getting hit could mean that the driver did not realise that he had been hit. 
A great example of why all drivers die die must have insurance
It is important to note that the Mazda 3 driver carries a P plate, which is a probationary license plate that should be put on display at the top-right portion of the front and back windscreens of new drivers. The plate can be taken down after a year of valid driving experience.
As such, it is critical that all drivers, especially P-platers, have insurance in case of accidents like this.
Annual premiums for car insurance typically start at $850, and the amount that you pay is determined by your age, your occupation, the amount of driving experience you have, your car model, and your claims history.
For P platers and drivers below the age of 27, car premiums are through the roof as insurers deem these drivers to possess a higher level of risk of getting into accidents.
Netizens' reactions
P-platers, no matter the situation, there is no reason good enough to justify driving and switching lanes recklessly. Stay safe out there!
Save up to $600 on your Car Insurance renewal and compare insurance quotes from 12 different insurers hassle-free. Get your free car insurance quote with sgCarMart today!
This content was originally published here.