Health Insurance Subsidies For Higher Income Households –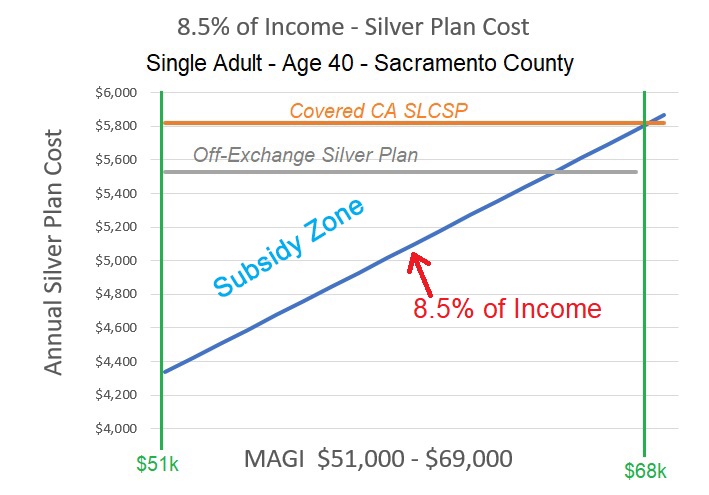 California households with middle and higher incomes will finally get a break on health insurance with new subsidies for 2021 through Covered California. Courtesy of the American Rescue Plan passed and signed into law in March, individuals and households with incomes over 400 percent of the federal poverty level will be eligible for federal subsidies. The subsidies will be based on making a Silver plan affordable at no more than 8.5 percent of the household income.
All the same eligibility conditions apply with the new enhanced health insurance subsidies. Individuals with government minimum essential coverage (Medi-Cal, Medicare, etc.) and those offered employer-based health insurance – in most situations – are not eligible for the subsidies. Plus, the family glitch that prevents a spouse and dependents from receiving the subsidies when a spouse if offered affordable employer-based health insurance still exists.
Health Insurance Subsidies Open Up To High Wage Earners
Covered California estimates there are about 500,000 individuals who could benefit from the expanded income-based health insurance subsidies. Those are households who earn over 400 percent of the federal poverty level and not eligible for any federal subsidies under the previous Premium Tax Credit subsidy conditions.
How is the subsidy calculated and when does it makes sense to switch from an off-exchange plan to Covered California?
The health insurance subsidy (Advance Premium Tax Credit, APTC) revolves around the
Second Lowest Cost Silver Plan
in your region through the Market Place exchange known as Covered California.
The subsidy, for incomes over 400 percent of the federal poverty level, will be the difference between the annual cost of the Second Lowest Silver Plan and 8.5 percent of your household income.
For example, if the annual cost of the SLCSP is $6,200 and 8.5 percent of your household income is $5,000, then the subsidy is $1,200. When divided by twelve months, that would be $100 per month to lower the cost of any health plan offered to you through Covered California. If 8.5 percent of your household income $7,000, and the SLCSP is $6,200, there is no subsidy.
For an individual, age 40, living in Sacramento County who earns over $51,040 (400% of FPL), the person was not eligible for a federal subsidy. The American Rescue Plan will offer a subsidy up to the point where the annual rate of the SLCSP equals 8.5 percent of the individual's income. As the income goes up, the subsidy goes down.
Premium Tax Credit Subsidies Between Southern and Northern California
For two adults, each age 55, living in Los Angeles County, the SLCSP has an annual premium of $14,743. The couple will become eligible for a subsidy beginning at an annual Modified Adjusted Gross Income of $105,000. The annual premium of the SLCSP decreases as a percentage of the income until it reaches 8.5 percent around $174,000 income.
The Second Lowest Cost Silver Plan is not uniform throughout California. In Northern California, the health insurance premiums are much higher. If that 55 year old couple were to move to San Francisco, where the SLCSP is $23,897, they would be eligible for a subsidy up to an annual MAGI of $280,000.
Artificially Inflated Covered California Silver Plans
Here is the situation individuals and families in off-exchange plans must be aware of. The Silver plans on Covered California are artificially inflated by 10 to 15 percent. Therefore, if you have an off-exchange Silver health plan – one purchased directly from the carrier and not Covered California – any subsidy you are eligible for needs to be large enough to make the new Covered California less expensive than your current Silver plan.
In other words, the subsidy needs to be greater than the difference between your current Silver plan and the artificially inflated Covered California plan. Only the Silver plans are artificially inflated on Covered California. The Bronze, Gold, and Platinum plan are the same rate.
Reasons not to Switch To Covered California
Some carriers offer other Bronze, Silver, and Gold plans not offered on Covered California.
There are still many grandfathered plans floating around.
You met your deductible or maximum out-of-pocket.
COBRA Coverage
This content was originally published here.