Health insurance savings via ACA exchanges expanded | Overdrive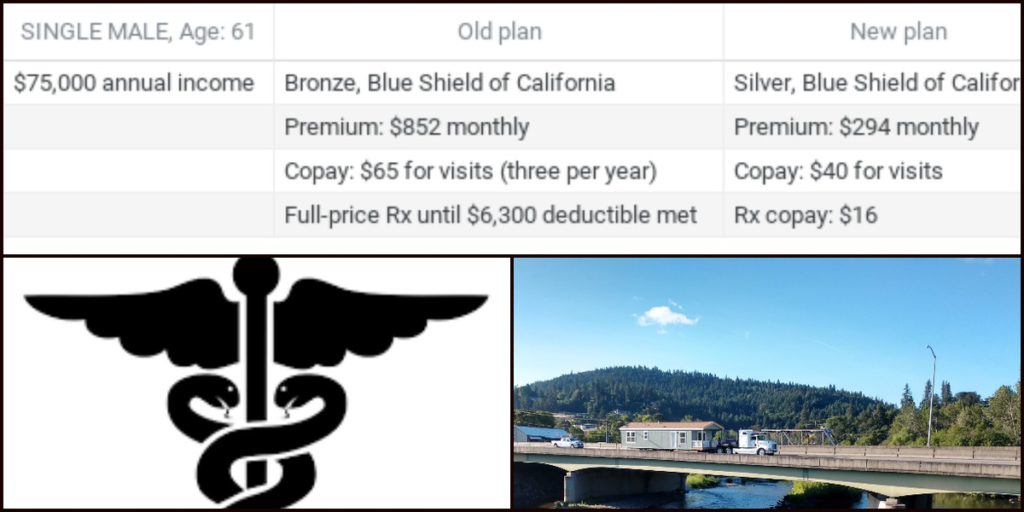 On April Fool's Day last week, there was something of a sea change in individual health insurance costs for the self-employed that's gone mostly unexamined in the trucking press to date – increased access to insurance premium subsidies put in place for at least the next two years for plans purchased through the Affordable Care Act's health-insurance exchanges. Around 20% of owner-operators in Overdrive's audience early this year reported purchasing such a plan for their health insurance. For them, and also for any new plan purchasers there, there's a high likelihood of a better deal than was available before the change. 
"We're in kind of an unprecedented spot with the ACA," said Marc Ballard, an insurance agent working closely with the National Association of Independent Truckers' TruckersHealthCare.com program, which among other things serves as an avenue for members and other owner-operators to the exchange, operated in collaboration with the Healthy Halo Insurance Services concierge. Ballard referred to the open enrollment period the American Rescue Plan Act opened from now through Aug. 15 for those currently enrolled and new buyers to take advantage of the ARPA's new premium benefits. That effectively extended another special enrollment period that had been ongoing for the federal exchange and some state exchanges put in place early in the year.  
About premium changes, though, Healthy Halo CEO Brent Heurter said that what the COVID-stimulus legislation has done is put the ACA "on steroids. Pretty much anybody who doesn't get their health insurance through an employer – like your average independent owner-operator – or have Medicare now qualifies for substantial help to pay for their premiums, whether they already have insurance or not."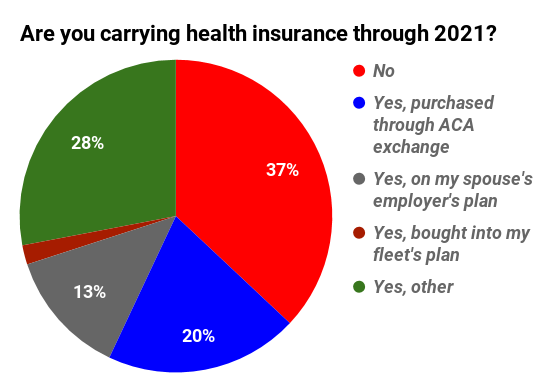 This polling data, with owner-operators responding early this year here at OverdriveOnline.com, shows a 57% majority of the audience either going without health insurance or purchasing through the ACA exchanges. Both categories of self-employed owner-ops stand to benefit in the near term from changes put in place by the COVID-stimulus/relief legislation.
That could apply to a large number of owner-operators, as Heurter noted, backed up by Overdrive's own polling data (see above) — a sizable majority (57% together) either do not currently have insurance or have purchased ACA exchange plans. 
What the legislation did was, at least for the next two years, kill off what watchers have called a "subsidy cliff," a level of income above which help on premiums simply wasn't available to purchasers on the exchanges. That income level, 400% of the federal poverty line, according to the Kaiser Family Foundation, was right around $51,000 annually for a single individual, well less than the almost $70K the average owner-op brings in annually. ARPA's capping of exchange Silver plan premium costs at 8.5% of income, no matter how high the income, delivers substantial benefits in particular to older Americans with incomes up to $20K and a little more above the old "subsidy cliff," KFF found in its analysis of how the changes apply to an individual aged 60 at various income levels. (You can find that analysis with a chart that also toggles between ages 27 and 40 as well at this link.)
Reps from Healthy Halo/NAIT offered a directly relevant case example, where the premium-cost savings are dramatic, among others. 

This 61-year-old male owner-operator, previously with a Bronze plan, is looking at what amounts to an upgrade to a Silver plan (lower-deductible, better coverage generally). He stands to save more than $6,500 annually on premium costs with the change.
Savings are generally less dramatic for younger couples and families, given generally lower plan costs and other factors. 

At once, this couple in their 50s didn't upgrade its plan significantly, remaining at the Bronze level, yet did benefit from a substantial premium subsidy and a variation on copays that will likely reduce out-of-pocket costs for visits and prescriptions.
Both the California man and Illinois couple were paying full price for their insurance prior to the change, square in the center of that group above the old "subsidy cliff" most likely to benefit from these recent changes – the Illinois couple to the tune of about $7,600 annually for family coverage. 
The third case example shows a relatively young family of five in Georgia, who with their old plan had been receiving a premium-reducing subsidy already. Yet they were still paying roughly 10% of their income on health insurance. 

With no plan change at all, the family stands to spend about $4,300 less annually on premiums.
Changes will not go into effect on an automatic basis for those already in contracts with private health insurers through the ACA exchanges, noted Health and Human Services. "We recommend all enrollees come in, update their application, and review their plan options" via the Healthcare.gov site or the state-run exchanges in the states that are administering their own.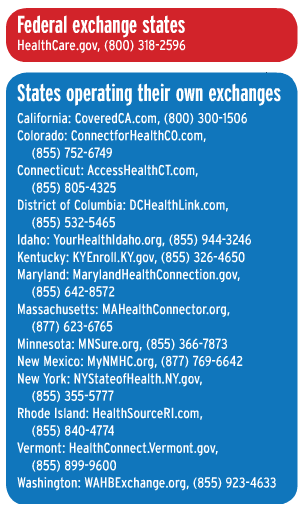 HHS emphasized state exchanges may be on a slightly different timeline for access to new premium subsidies than the federal exchange. Healthy Halo's Heurter suggested a specialized insurance broker like his concierge service could help owner-operators assess their options there and elsewhere. 
Current plan holders will need to go through a "reapplication process" to take advantage of new subsidy rules, Heurter said. Concierge services like NAIT"s partnership with Healthy Halo in TruckersHealthCare.com can facilitate the details of that for owner-operators, likewise the TrueNorth Companies' TrueChoices marketplace.
"Anybody not offered employer coverage needs to call us to see" what might be available, Huerter believed, noting it can be "way too complicated to go online" and attempt to navigate the new rules that way. 
[Related: A bit of trouble with double-dose COVID shots and appointments you can reliably plan around]
For those who end up benefiting from these changes, keep in mind that they are currently scheduled to sunset after 2022, unless something changes. Remember that before you take on liabilities you won't be able to afford if premium rates revert. 
This content was originally published here.