Cuvva Smart Pricing — Pay-monthly car insurance, better prices for better drivers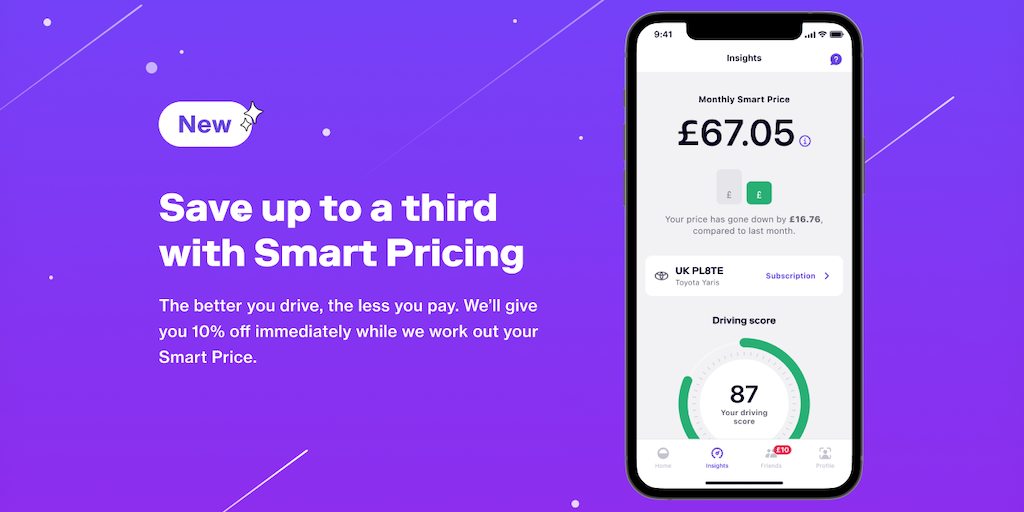 "
I'm Nathan, Product Manager at Cuvva. We believe that the UK car insurance industry is broken. And we're fixing it. Cuvva is making insurance radically better by giving you a truly flexible way to manage your cover, all from your phone.
The insurance industry works on outdated and impersonal processes, which means people get treated unfairly. And we were fed up of hearing 'that's just the way things are'. Insurance pricing is usually based on just about everything except how you actually drive. It's about time we did things differently.
That's why we've introduced Smart Pricing.
What is Smart Pricing? 💡
Smart Pricing uses clever technology that's already on your phone to give you a driving score and reward good drivers. Pretty incredible, right?
So, how does it work? 🤔
Prices based on your driving ✨
Opt-in to Smart Pricing and save up to a third on your car insurance. We'll use your phone sensors to see how you drive and give you a fairer price. The better you drive, the less you pay. We'll give you 10% off immediately while we work out your Smart Price.
Pay-monthly cover 🗓
Across the year, your cover will be made up of back-to-back, fully comprehensive monthly policies. You can cancel whenever, but if you stick around for a year you can grow your no claims bonus.
Payments 💰
7 days before a monthly policy begins, we'll automatically take the payment. This gives us the time to get everything set up properly.
One place to manage your car 🚗
To help make life even easier, you can see the important info about your car and set reminders for road tax and MOT.
How do we calculate your driving score? 🧑‍🏫
We tell you exactly what we're looking for; speed, braking, focusing, corners, and accelerating. And we use your location and motion data to show you how you're doing, help you drive safely and unlock the best savings.
We know bad days happen – that's why we only give you a Smart Price once you've driven 125 miles. The more you drive, the more reliable your score, and the more you could save.
🇬🇧 For now, this is a UK only product and you need a DVLA licence in order to get covered, but we're hoping to bring the product to international markets in the future.
"

– Nathan Bratby
This content was originally published here.