Buckley's Proposal Would Strip Health Insurance From Coloradans with Pre-Existing Conditions, Says Expert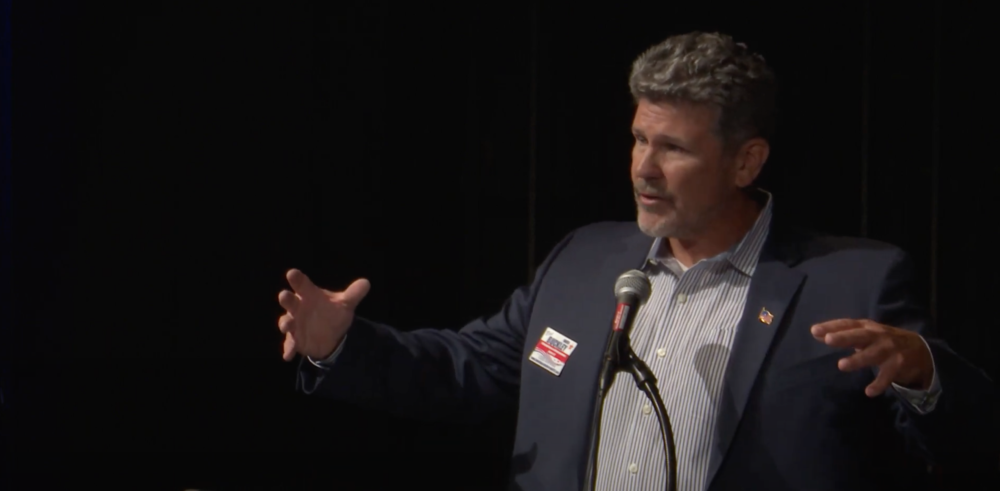 By Jason Salzman.
A Republican state House candidate's proposal that the "government needs to stay out" of health care could result in thousands of Coloradans with pre-existing conditions losing their health insurance, according to an expert on health care policy.
That's what happened prior to the passage of the Affordable Care Act when the government didn't require health insurance companies to cover people with pre-existing conditions.
But Republican state House candidate David Buckley was adamant about his stance during a debate with his Democratic opponent Julie McCluskie on Saturday.
During the debate, McCluskie — the incumbent — said she was proud of a program she helped pass to lower health insurance premiums on the individual marketplace by 36% on the Western Slope, where much of Mcluskie's district is located.
"Health care is complicated," McCliuskie said from the stage. "I've talked to a number of you about it. I know it's tough. But we have to keep leaning in and doing more."
"I agree with ya; health care is tough, which is why I think the government needs to stay out of it," responded Buckley. "Government already has Medicare and Medicaid, as government health care programs. I've worked in those programs. There's a medical transportation benefit associated to those programs. I see the corruption. I've seen the unintentional and the intentional corruption. The government doesn't have the ability to manage these programs, and the bigger it gets, the more complex it becomes."
Pointing to Obamacare as an example, experts say government involvement in health care can lower costs and improves benefits.
"Essentially, we had an unregulated health care and health insurance market prior to the Affordable Care Act, and that led to tens of thousands of Coloradans being denied access to health insurance coverage because they had even minor pre-existing conditions," said Adam Fox of the Colorado Consumer Health Initiative, a health care advocacy group. "The talking point that government shouldn't have a role in health care and controlling costs is laughable because Colorado has demonstrated how it can be effective. It is also frightening because if there isn't that oversight, health care costs will continue to balloon and push even more Coloradans into medical debt."
In response to an email seeking comment, Buckley stated that he "never said I want to take these programs away nor reduce benefits," but he didn't explain how he'd maintain the programs as they currently exist without government involvement.
"I understand the value and the critical need associated with these programs, as well as what the Affordable Care Act was intended to do," Buckley wrote. "What I said … is that there is corruption happening in both programs, intentional and unintentional. I have seen this happen first hand and would like to be in a position to clean that up so that taxpayers supporting these programs will see their money spent on actually helping those that desperately need it. My opponent has never worked in health care and doesn't have that experience."
Buckley affirmed his position about getting the government out of health care and also suggested getting "for-profit companies" out of health care and letting "caregivers provide the service."
"It was the government that allowed for-profit insurance companies to come in and provide services to Medicaid and Medicare programs," wrote Buckley in an email. "Many of these are for-profit companies that are publicly traded and seek to pad shareholders' pockets. Health care used to be managed by nonprofit organizations, there are some still today but even some of those companies focus on the dollar now versus the care because they are competing with for-profit companies. When the government gets involved and collects taxes for programs, that draws the attention of businesses seeking to capitalize on big profits. They work to manage care at the least cost. I would suggest getting business out of health care (for-profit companies) and let the caregivers provide the service because they are the experts. When it comes to our citizens' health, we need to focus on care, not profits. I spent 30 years in the industry, I have seen good and I have seen bad. The government, with good intentions, wants to help but ultimately they and taxpayers get taken advantage of."
At the beginning of the Grand Junction debate, hosted by Club 20, a western Colorado civic group, McCluskie told the crowd she'd helped pass a reinsurance bill that "has brought down health insurance premiums on the individual marketplace by 36% on the Western Slope."
Buckley responded to McCluskie later in the debate, essentially saying she didn't know what she was talking about.
"Well, let me tell you, working in health care for 30 years, I hear Rep. McCluskie talk about the 36% savings. Let me tell ya, working with actuaries and underwriters, when you are lowering premiums, you're either losing benefits or you're paying a higher deductible. So in other words, you're not having insurance. What we need to do is to get government to take more of a back seat to health care because they really don't have the ability to manage it. They don't understand the ins and outs of what happens with underwriting and how that comes out with pricing. It's all pool-based. That's how health insurance works. And don't make the mistake that health insurance and health care are the same. They're not. Okay. So that's a big mistake that people make. One of the big things we need to do is let the experts manage health care."
In response, McCluskie said, "I'm extremely proud by the steps that the Legislature has taken with reinsurance to bring health insurance prices down on the individual marketplace. We do that by driving revenue in, not by increasing deductibles, not by increasing premiums."
Fox and other experts explain that reinsurance lowers premiums by cutting the costs of insurance companies.
"That's not really accurate," says Fox, referring to Buckley's comment that you can't lower premiums without losing benefits or paying a higher deductible. "It's exactly what reinsurance does, and what other policies like the Colorado Option are working to do. Reinsurance alleviates the insurance carriers' costs for really high-cost claims so that health insurance carriers don't have to increase premiums or shift more costs onto consumers."
Buckley and McCluskie are vying to represent House District 13 (HD13), which covers a swath of the state west of I70 from about Idaho Springs past Walden.
UPDATE 9/15/2022: A comment from Buckley, received after publication, was added to this article.
The post Buckley's Proposal Would Strip Health Insurance From Coloradans with Pre-Existing Conditions, Says Expert appeared first on Colorado Times Recorder.
This content was originally published here.