At-home coronavirus tests to be covered by health insurance, HHS says amid omicron surge – The Washington Post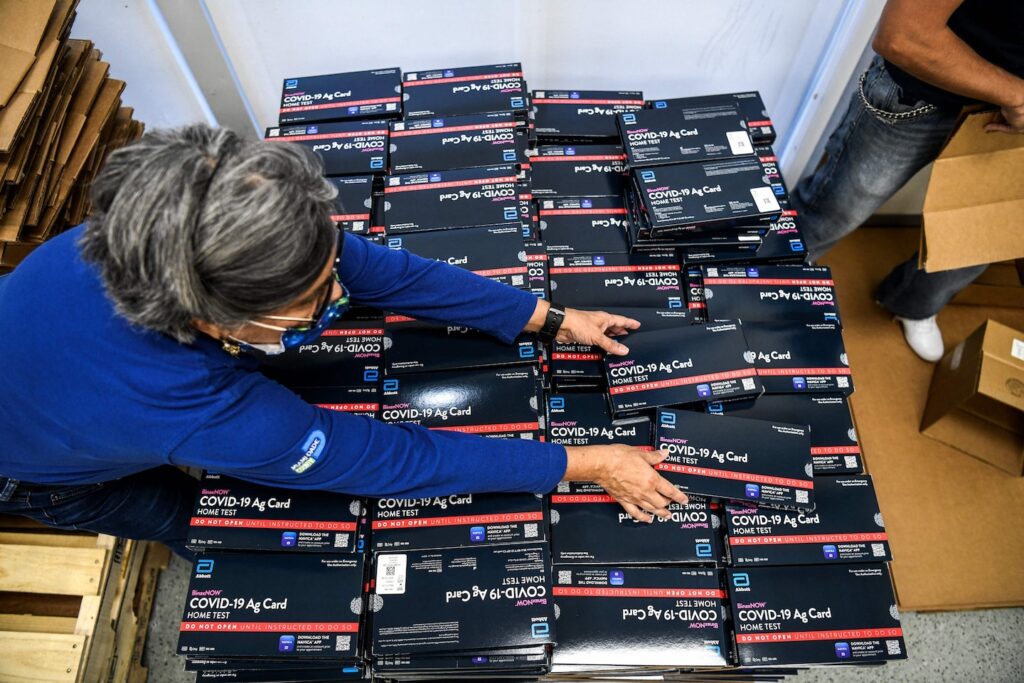 "Today's action further removes financial barriers and expands access to COVID-19 tests for millions of people," Chiquita Brooks-LaSure, administrator of HHS's Centers for Medicare and Medicaid Services, said in a statement.
Experts consider the antigen tests to be a key tool in the fight against the pandemic. Other countries have been relying on them for months, in some cases with governments buying them and distributing them for free.
Before the administration issued the details of the insurance requirements, some health policy experts and consumer advocates had feared the rules could compel consumers to pay more than they could afford before getting money back from their health plan, still putting tests out of financial reach.
To help make tests more affordable, the government is creating a financial incentive for insurers to cover those costs upfront.
The rules encourage health plans to set up a network of preferred pharmacies, stores and other business through which people in the plan can get tests without paying anything out of pocket.
Health plans that create such networks will be required to reimburse no more than $12 per test if someone buys them elsewhere. If an insurer does not set up a preferred network that can spare consumers upfront costs, the plan must reimburse the full cost, no matter how high the price.
Rapid tests often come in two-test kits, and their average price in the United States was $24 for a kit but has risen lately as supplies have become scarce during the surge of the fast-spreading omicron variant. Lindsey Dawson, an associate director at Kaiser Family Foundation, a health policy organization, said she recently tracked the price of 10 tests on six websites for slightly more than a week. Out of nearly 500 checks, she found a price as low as $12 per test only seven times.
Dawson praised the incentives in the administration's rules for creating ways people can get tests without laying down money.
"But to the extent issuers don't set up these networks," Dawson said, "people could have to front the cost of tests that are quite expensive."
She added that test availability remains "very limited."
While the requirements set a limit of eight tests per person a month when consumers buy them on their own, there is no limit on the number of coronavirus tests of any kind — PCR or antigen — that insurers must cover if they are prescribed or ordered by a doctor or other health-care practitioner.
At-home tests will be covered without the need for a health-care provider's order or individualized clinical assessment, or any other costs to consumers, such as deductibles or co-payments.
Major forms of public insurance, including Medicaid, the Children's Health Insurance Program and the original version of Medicare, cover such tests with no cost to consumers.
HHS SecretaryXavier Becerra, in a statement, touted the new requirements for insurers and group health plans as part of the administration's overall strategy "to ramp-up access to easy-to-use, at-home tests at no cost."
The administration has come under pressure to do more to address shortages of rapid tests reported online or in retail stores — and prices that are prohibitive for many Americans.
It may not be a seamless transition for insurers or consumers, two health insurance industry groups cautioned.
"While there will likely be some hiccups in early days, we will work with the administration to swiftly address issues as they arise," Matt Eyles, president of America's Health Insurance Plans, said in a statement.
The president of the Blue Cross Blue Shield Association, Kim Keck, expressed concerns "that the policy does not solve for the limited supply of tests in the country and could cause additional consumer friction as insurers stand up a program in just four days' time."
Biden detailed new plans to expand coronavirus testing sites across the country, deploy more federal health resources to aid strained hospitals, and distribute a half-billion free at-home tests.
Reis Thebault contributed to this report.
This content was originally published here.