A College Student's Guide to Car Insurance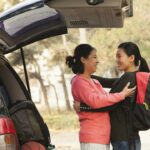 When you leave home for the first time and head off to college, oftentimes you are faced with new challenges. Car insurance may be one of them, but it doesn't have to be! We've done the research for you so you know what top three things to keep in mind when it comes to car insurance for college students. 
Avoid High Rates for Inexperienced Drivers
Rates are a large contributing factor when deciding which company to get coverage through. Your parents may think to remove you from their policy while you are away from college because you may not have a vehicle on campus with you. But something to keep in mind when you are looking for coverage is that adults ages 18-25 have rates almost $4,000 over the national average because they are considered high-risk drivers. 
Having your own insurance policy can be more expensive for students and if your parents decide to remove you from their policy. It may also result in you having a gap in coverage that will most likely increase your premium when you do acquire car insurance down the line. Talk to your parents or their current insurance provider to find out what option is best for you. 
Keeping Your Premium Low 
Although discounts are great, they aren't guaranteed with every insurance company. After age 25 once many people have gained more experience driving, car insurance rates start to drop. The best way to ensure you can benefit from those rate decreases is by practicing safe driving habits while you are still young to be eligible for a good driver discount. Some providers have devices or apps to use while driving that track your good driving habits and offer steep discounts for regular use.
Now that you have shown the car insurance company that you're a safe, responsible driver, you may be tempted to buy a luxury vehicle. Because expensive cars are more costly to repair in the event of an accident, they can be difficult to insure and have a much higher premium. If you want to keep your insurance cost down, buying a fancy car isn't the way to go. Stick to something reliable, and maybe even slightly used, to keep more money in your wallet. 
Student Discounts
When you are looking for a policy that fits your needs, you will want to inquire about any discounts they may offer. You may have heard about a good student discount which can take anywhere from 10 to 15% off your premium, however you will need to reach out to your provider to find out exactly what they offer. In addition to just being enrolled as a student, they may provide some additional discounts such as:
Good grades: Depending on your insurance company, the qualifications may be different such as needing all A's or simply a GPA of 3.0 or higher.
High standardized test scores: Show your insurance company your test scores on the SAT, ACT, or PSAT.
An administrator signed letter supporting your academic successes
Making the Dean's list
Having your Associate degree or Bachelor's degree
Military discount: Active duty or veteran 
Being a sorority, fraternity, and honors society member
University and alumni discounts
You will likely need to provide proof to your insurance companies to qualify for these discounts.  These discounts can still apply either on your own policy or if you are still covered under a parent's policy.
Bonus: Distant college student discount
Here is another great reason to stay on your parent's policy while in college: If you attend college out of state, they may be eligible for a discount!
It is called the "distant college student discount" or "the student away at school discount." You may be able to receive this offer if you attend a university that is over 100 miles away from your parents home and you don't have a vehicle of your own. 
The only catch: you must be away at college and cannot have a car with you for your parents to receive this discount.
Final Thoughts
One of the most important things to keep in mind while weighing your car insurance options is to shop around. Whether you have your own policy or you stay on a parent's, get quotes and pricing options from other companies to see if you are able to get the same exact coverage for less. Some companies offer better rates based on if you pay directly through your bank account or annually, rather than monthly. Shop around and make it a challenge with yourself to find the best rate for you!
This content was originally published here.