1 in 5 Americans received surprise bills despite law, many lack health insurance literacy, reports find – MedCity News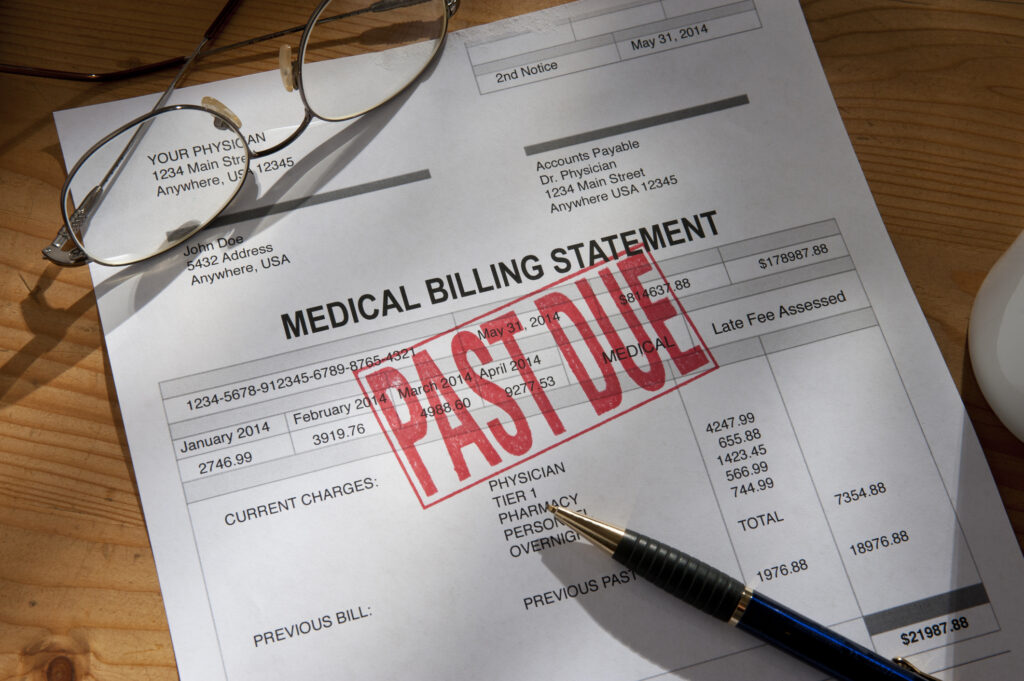 Skyrocketing medical bills and a lack of understanding in the healthcare system is putting financial stress on Americans in 2022, several recent reports have found.
Despite the No Surprises Act, which protects consumers from surprise billing, many Americans said they're still receiving unexpected bills, and a low healthcare literacy is making it difficult for them to know how to handle high medical bills, the surveys find. High medical debt is leading them to put off care and forego other expenses, another survey found.
Surprise billing
One in five adults say they or a family member have received an unexpected medical bill in 2022, despite the federal ban on surprise medical billing that went into effect Jan. 1, a Morning Consult survey of 2,210 adults found. Of those who received a surprise medical bill, 22% had to pay over $1,000.
About one in four adults delayed or skipped medical care this year due to fear of surprise bills, the survey found. This is true across the board for emergency room care, primary care, medical specialist care, urgent care and mental health care.
Many Americans are unsure if they know how to handle surprise bills and cited a distrust in healthcare companies and confusion over the No Surprises Act. A full 63% of adults said they are confident they could address a surprise bill they suspected to be illegal. This includes 61% who have received a surprise bill in the past.
One respondent said of payers and providers: "[I] feel even if I were to contact them about the issue they would use stall tactics until I give up and just pay the bill."
"I would have no clue where to go to seek advice or help with my bill," another respondent said.
Confidence in knowing treatment costs up front varies depending on care. Americans are the least confident in knowing costs for emergency room care up front, at 45%, versus 71% with primary care.
There is also a lack of public knowledge in the surprise billing law, with just 16% of respondents saying they've seen, read, or heard something about the No Surprises Act. CMS created a website this year to help educate consumers, and said they can contact the No Surprises Help Desk at 1-800-985-3059 about surprise billing.
Health insurance literacy
The Morning Consult results mirror a health insurance literacy survey by HealthCare.com, which found one in four Americans said a lack of understanding in health insurance led to them receiving a higher than expected medical bill. 
The survey polled 1,075 American adults under the age of 65.
Half of respondents believe copays count toward deductibles, when they generally don't. Only 41% of respondents correctly believe that low deductible health insurance plans pay out sooner than high deductible plans and 22% incorrectly believe that if they anticipate low medical expenses in the coming year, they should choose a low deductible plan. 
Still, most respondents, or 67%, said they are very or somewhat confident they can choose the health plan that best fits their needs.
Delaying care
More Americans are putting off non-emergency medical care in 2022 than they did a year ago because of medical debt, a Discover Personal Loans survey of 1,521 adults found. Those with medical debt — 52% of Americans are putting off seeing a specialist, 41% are delaying being seen for a sickness and 31% are stalling treatment plans recommended by their physician.
About half of respondents said it will take more than a year to pay off their current medical debt.
Not only are Americans delaying care, but they're forgoing other expenses at higher rates than they did last year. Forty-eight percent said they have stopped spending on dining and entertainment in 2022, versus 35% last year. Forty-two percent said they've skipped vacations, compared to 37% last year. Forty-two percent said they've only paid the minimum payment for their credit cards, compared to 23% last year. And 36 percent said they've skipped adding to their emergency savings, compared to 28% last year.
"Consumers are feeling more pressure to juggle their bills in order to make ends meet," Matt Lattman, vice president of personal loans at Discover, said in a news release. "Skipping things like paying bills, getting seen for an illness or building an emergency savings fund can have long-term effects."
Photo: KLH49, Getty Images
As they seek to support their staff, self-insured employers are turning to innovative programs to balance evidence-based programs with the need to manage healthcare costs.
This content was originally published here.